The Bigtown Real Estate Team offer a comprehensive Seller's Program which includes explaining the selling process to you, pricing your home for today's market conditions, developing and implementing a marketing and sales plan for your home, evaluating offers and negotiating to ensure you obtain the highest offer and closing the deal on your behalf.  As part of our seller's program, we also offer a customizable range of listing services that you can choose from depending on your needs. 
Our aim is to offer you a friendly, client-focused and rewarding real estate experience.
Listing Services
We provide a customizable range of listing services that you can choose from and that are tailored to meet the needs of each individual seller. For example, some sellers may need decluttering and home staging services while others may not.  Our listing options offer four different levels of services: Platinum, Gold, Silver and Bronze.
Below you will find a table that highlights the different Listing Options.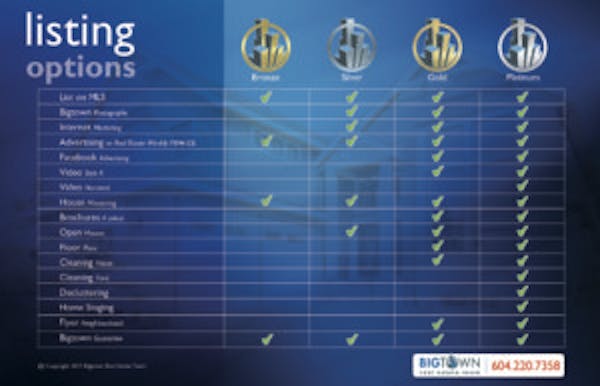 Pricing Your Home
The Bigtown Real Estate Team has developed our own unique BRET–Comparative Market  Analysis TM of your home. Our home evaluation consists of a thorough 109-point process to establish a pricing range for your home. We'll examine all sold, active and expired listings in your neighbourhood and will review current real estate market trends with you.
Preparing for Sale
We will work with you to develop and implement a realistic timeline to sell your property. Homes that are priced properly sell faster and at a higher price than those that are not.
You will want to select a notary or lawyer before you begin the selling process and we will provide you with a list of notaries and lawyers for your reference.
If you have an existing mortgage, you will want to investigate your closing costs and/ or the portability of your mortgage. We can recommend a mortgage broker if you need one.
Clean, well-laid out homes with tidy yards and balconies are easier to sell. Bigtown offers a home staging consultant, home and yard cleaning and de-cluttering services as part of our listing services.
Marketing and Selling Your Home
We provide a proven sales and marketing program that includes:
MLS® Marketing
We enter your home in the Multiple Listing Service (MLS®) database which gives you 

exposure to participating REALTORS® from across Canada.

Marketing and Sales Collateral
We develop professional marketing and sales collateral that includes brochures that showcase your home and include full-colour photography and detailed floor plans, postcards to promote your listing and open houses and, if desired, two different styles of videos that you can select to further market your home.

Video Style A – includes music and photographs of your home

Video Narrated – includes a fully narrated video on your home by award winning television producer Jim Hart.




Email and Direct Marketing to Potential Buyers
We send out emails to clients on our extensive database as well as to those who have signed up to our email newsletter, News You Can Use. We also send out an information sales sheet on your home to all REALTORS® who are affiliated with the Sutton Group – West Coast Realty, Canada's #1 real estate broker. We also distribute postcards that promote your listing as well as upcoming open houses within your neighbourhood.
Social Media and Website promotion
We place targeted ads and post information on your listing and open houses on our Facebook page. This is a very cost-effective method to reach targeted consumers who are interested in buying real estate. We also showcase your listing and open houses on our website.
Real Estate Weekly Advertising
We advertise your listing and open houses on the Real Estate Weekly website (REW.ca) which is a widely used online real estate portal based on the popular print publication that has been around for over 30 years. This website receives over 1.8 million visitors to the site each month and also has over 35,000 daily email alert users.
Regular Open Houses
We host regular open houses for the public and other real estate agents.
Negotiating and Closing
Bigtown REALTORS® are experienced negotiators and can save you thousands of dollars in the sale of your home. We're always on your side; buyers have no agency or affiliation to us when you use Bigtown to sell your home. Closing and possession dates are also very important. We can show you how to save money and limit hassles.
Moving
The Bigtown Real Estate Team have a convenient guide for moving as well as a downsizing guide which we will share with you.
The Bigtown Guarantee
We promise to deliver everything we say we will do in writing in the Multiple Listing Service  (MLS®) contract.